Why do organisations outsource their SOC?
Security analysis requires Highly Skilled Resources to provide context

Sophisticated Attacks require External Threat Intelligence to Defend against

Comprehensive cover requires you to Deploy & Operate multiple security products

Thousands of events per second require Security Automation & handling of routine tasks
Would your business survive a Cyber Incident?

Many organisations incorrectly believe that they'll never become victims of a cyber attack because there are higher value targets. The reality is that nearly 50% of all incidents are perpetrated by insiders and all criminals are opportunistic. Many businesses fold within 6 months of a major incident but Talanos can help yours build resilience through risk management, visibility and early detection.
"It takes 20 years to build a reputation and just a few minutes of a cyber-incident to ruin it."
― Stéphane Nappo
Button label
A global managed security service provider
With Security Operations Centres in India, UK and South Africa, Talanos can augment your security function with a skilled "Blue Team" of consultants, engineers and analysts:
• 24 x 7 x 365 incident alerting

• Threat hunting and incident response

• Single pane of glass view across security estate

• Continuous service improvement and extension

• Regular risk assessment and reporting

• File integrity monitoring

• Email & identity surveillance

• Dark Web monitoring and analysis

Get in Touch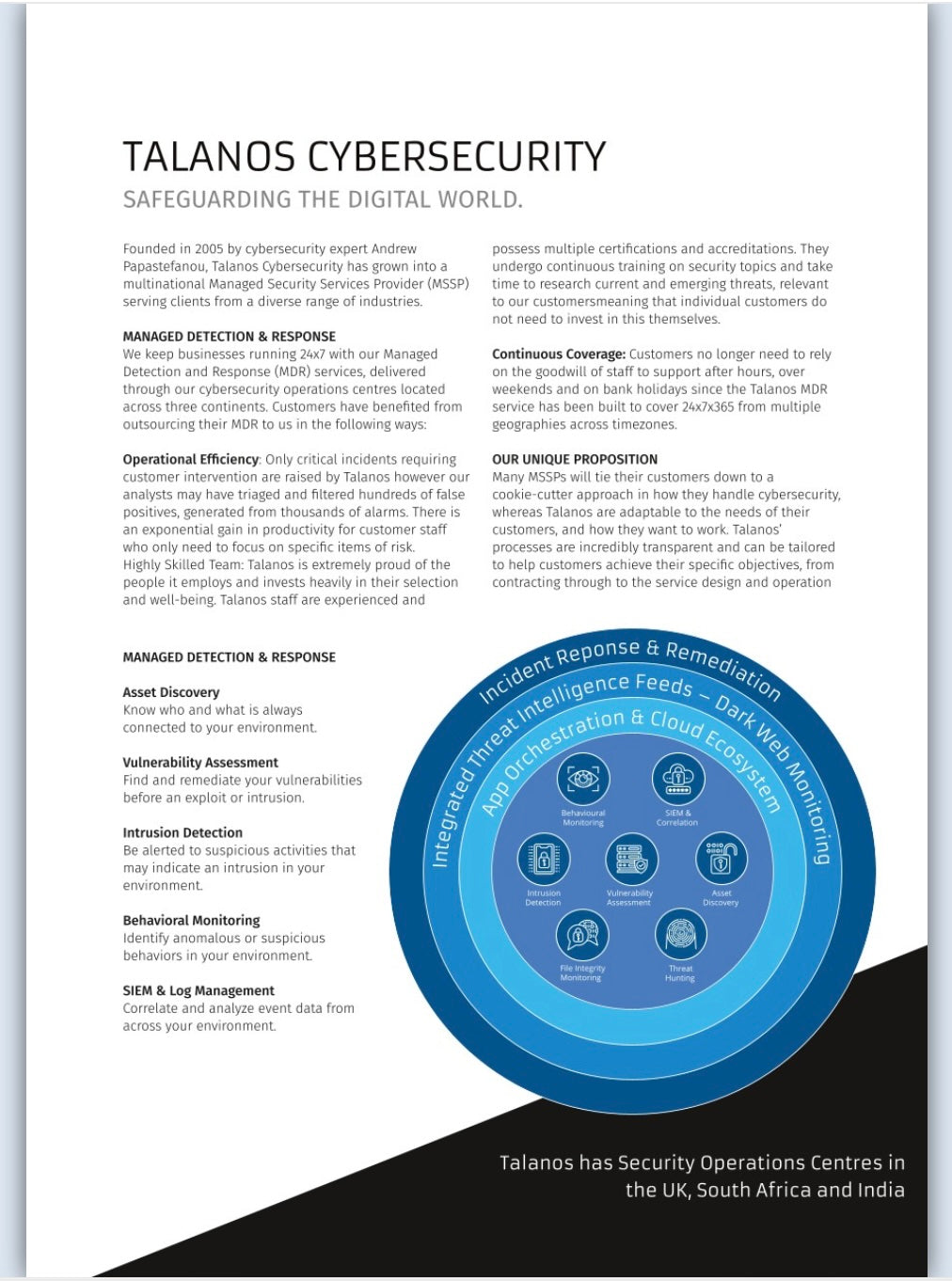 Solution Brief
No jargon and no sign-up. Download our whitepaper that describes what our customers get when they buy our MDR services.
Read what customers have to say about the value of our human lead, 24x7 protection that keeps their businesses running.
Download
Immediate improvement of security posture

Easily deployed within weeks


Vulnerability Assessment
Provides unlimited internal and external scanning to address new security and compliance needs as your business expands. Our team routinely scans the network environment to identify and help to reduce your organization's attack surface.
Get in Touch
Identity Context is Crucial to Security
Where most MSSP's are focused on external threats alone, Talanos can additionally govern and inspect the identities of authorised and privileged users, analysing their patterns of good behaviour. Identity brings context to what would otherwise be meaningless interactions between endpoints and understanding 'why' transactions occur is critical in detecting nuanced behaviour like fraud, unintentional insider exploitation and advanced persistent threats.

Govern your Identities
The Identity SOC
Security Incident & Event Monitoring

SIEM with built-in threat intelligence to correlate security events from multiple silo'ed sources


User and Entity Behaviour Analytics

Hooks into popular IGA & PAM providers to add crucial identity context to logged security events throughout the stack to determine patterns of behavior and access

Intrusion Detection

Privilege account escalation detection through identity lifecycle events linked to Real-time network and access events.

Contact Us